On August 6, 2013 we're inviting communities to gather for the Night Out for Safety, Democracy, and Human Rights. Night Out for Safety Democracy and Human Rights will ask residents to rise up and voice their ideas and opinions on public safety. This action will coincide with the National Night Out sponsored by the National Association of Town Watch, an event designed to "raise crime awareness." While typically at official National Night Out events, community members are lectured on crime and drug prevention, the National Night Out for Safety, Democracy and Human Rights will include immigration, criminal justice, and civil liberty issues in an open discussion about what it truly means to create safe communities.
We Need Your Help:
·      Endorse the Night Out for Safety, Democracy and Human Rights
·      Alert people you know to events in your area
·      Build more Night Out for Safety, Democracy, and Human Rights events
What is "National Night Out?"
National Night Out is a yearly event that brings together the police and neighborhood watch groups in cities and towns across the country. At these gatherings, the  police encourage residents to "take back their streets" by acting as  "eyes and ears" for the police. The message this imparts is that we are made safer by turning on our neighbors rather than to them. Night Out for Safety, Democracy and Human Rights wants to see neighborhoods act collectively and in solidarity. Community members have more than eyes and ears. We have hands, hearts and minds.
·      Hands—across the country community driven violence prevention efforts have been very successful yet too often under-resourced.  Its time we celebrate the heroes and sheroes who act as peacekeepers.
·      Hearts—when neighbors reach out to each other to offer a job to a formerly incarcerated person or to mentor an 'at-risk' youth or to plant a community garden we are creating safer communities. On August 6th, lets network to build safer communities for all
·      Minds—for too long failed 'tough on crime' strategies have harmed low-income communities of color. Community members know their communities. Lets put our heads together to develop 'smart-on-crime' safety strategies that prioritize investment in under-resourced communities.
Together we can build a sustained movement to move resources away from locking people up and toward lifting them up
How do I get started?
First, endorse the Night Out for Safety, Democracy and Human Rights by filling out the form below.  Then, invite the faith community, PTA or other organization to which you belong to host and attend events. Finally, spread the word through social media and email blasts and the like.  #nightout4democracy
You can download copies of Night Out Posters here:
I don't watch my neighbors.  I see them.  –By Micah Bazant
We are the Hearts Minds, and Hands–By Amaryllis Dejesus Moleski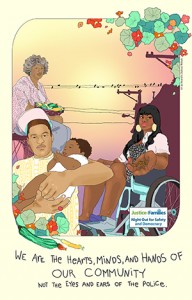 No Vigilo a mis Vecinos. Los Veo–By Micah Bazant
Somos los Corazones, las Mentes y las Manos–By Amaryllis Dejesus Moleski
Let us know you're on board by adding your name to the list below. We'll get back to you with bullet points, stickers, and press tool kits that will help you talk to neighbors and press.